Personal TENS & EMS Machine (MH6000P) Super Combo
Personal TENS & EMS Machine (MH6000P) Super Combo
$

118.50
$220.00
Ex Tax:

$118.50
Product Code:
TK6000P
Availability:
In Stock
KEY FEATURES: Small, powerful, lightweight, portable TENS & EMS Machine SUPER Combo.
This is ideal for home TENS and EMS users. It comes ready to use with the MH6000P device, gel pads and battery.
** Note: MH model devices can be used continuously. Compared to cheaper rechargeable TENS devices, which only run for 20 to 30 minutes. This is an important advantage.
BEST FOR home users conscious of price. It is an ideal travel option for people that need a practical and portable device.
FUNCTIONALITIES: The MH6000P device has both TENS and EMS functions.
● TENS (Transcutaneous Electrical Nerve Stimulation) is primarily used for pain relief, circulation and wound healing. More information can be found here.
● EMS (Electrical Muscle Stimulation) is used for muscle strengthening, toning, rehabilitation, warm up, and recovery. Learn more here.
CHANNELS: 2
The is a dual-channel device which means you can run two channels at the same time, using the same program at individually controlled intensities, treat two body parts (or for example, both sides of the back) at the same time.
A channel is one cable with two electrodes; each of which attaches to a gel pad which adheres to the body.
Using two channels simultaneously allows a large area to be treated. Two channels are useful when treating back, neck, shoulder, hip and knee pain with TENS, as well as for most EMS functions when stimulating larger muscle groups.
PROGRAMS: 9 Preset and 3 User Configured
The MH6000P comes with 9 Preset Programs:
| | | |
| --- | --- | --- |
| TENS Programs | Name | Use |
| P4 | Conventional TENS | Conventional or "acupuncture-like" TENS is for fast pain relief which lasts for a short period. |
| P5 | Burst TENS | Burst TENS is used for radiating pain such as Sciatic, Back, Tinnitus, Sclerosis, Circulatory Disorders |
| P6 | Modulated TENS | Cervical and Shoulder treatment |
| P7 | Mixed Frequency TENS | Chronic pain requiring short and long term relief |
| EMS Programs | Name | Use |
| P8 | Rehab EMS 1 | Rehabilitation of Upper Body |
| P9 | Rehab EMS 2 | Rehabilitation of Lower Body |
| P10 | Rehab EMS 3 | Rehabilitation of Shoulder and Lower Arm |
| P11 | Warm Up | Warming up before exercise |
| P12 | Recovery | Recover from fatigue |
MODES:7
| | |
| --- | --- |
| TENS | EMS |
| Normal | EMS |
| Rate Modulation | EMS with Rate Modulation |
| Width Modulation | |
| Burst | |
| Mixed Frequency | |
GEL PADS: Set of 17
Made from the best quality Japanese gel, our adhesive Gel Pads will last for usually up to 15 uses.
17 Gel Pads are included in this Super Combo. You can simply order more from us online when you need them.
To maximise the lifespan of your Gel Pads, clean the skin from any oils before applying them. Removing hair will also help the increase Gel Pad life. After use re-stick them to the plastic sheet and store away from heat and moisture in the sealed zip-lock bag.
You will know they need replacing when the start to fragment and you find them not sticking fully.
Sample Images: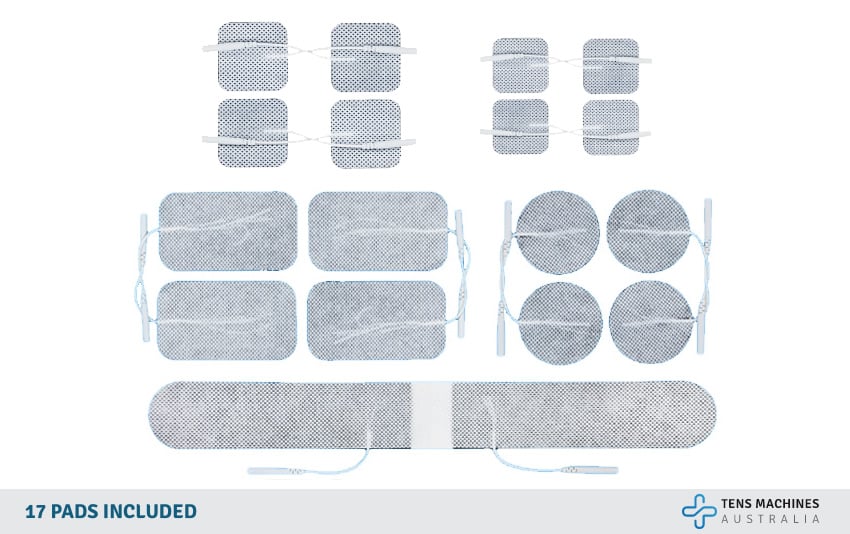 POWER: The MH6000P can be powered by a standard 9 Volt battery or by a power adapter. Both included in this Super Combo.
INCLUSIONS:
| | | |
| --- | --- | --- |
| | 17 | Gel Pads |
| | 2 | Leads |
| | 1 | Case |
| | 1 | Instruction Manual |
| | 1 | Power Adapter |
| | 1 | 9V Alkaline Battery |
| | 3 | Year Warranty |
EXCLUSIVE CUSTOMER CARE
Our Director, Chris Clarke B. Pharm, first become involved in supplying TENS devices in the early 1990s when he was asked by Physios, Occupational Therapists, Doctors and Pain Specialists of Prince Charles Hospital (Brisbane), to provide TENS devices through his pharmacy.
With our background in healthcare we bring strong knowledge and support. Our devices are registered medical devices with the TGA and have proven results for numerous years.
User support is available on our toll-free number 1300 361 222. We are there if you need any assistance on selecting the best TENS/EMS setting for you.
Marketing
GTIN
9350989005499
Powered By

.
TENS Machines Australia © 2023. Privacy Policy. Quality Policy. Terms & Conditions. Sitemap.